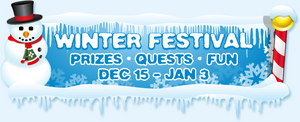 The Winter Festival 2011 is a party on Pandanda that started on December 15th, 2011 and will end on January 3rd, 2012. A large tree was placed in Bear Hollow with a present under it that said "do not open until December 25th".
Stocking stuffers
Edit
Main article: Stocking stuffers
As with most parties, you got an item to collect things with, this time it was a stocking, and with this stocking you could find items to put in it and then turn them in to Chilly for prizes.
Types of stocking stuffers
Edit
Candy cane (red, green, orange, pink)
Present (blue, red, green, yellow, pink)
Peach
December 20th, 2011 was deemed "Snowman Day" and Sheriff Steele was meetable.
Mr. Elmhurst sold items for your treehouse again.
New Year's Day falls during the festival.
The background of your text was changed to red, instead of white, for this festival.