"
I'm looking for old furniture for my workshop. As my Grandpa used to say "A little paint and a little glue and this old junk's as good as new!"
"
 

— Mr. Elmhurst
Mr. Elmhurst is an old, brown panda that resides on West Market Street. He will buy your old furniture.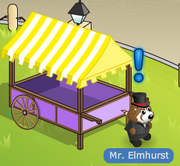 During Holidays, he will sell furniture for your Treehouse.
In October 2010, his role was replaced by Farmer Ned, who sold pumpkins for the treehouse. This also meant that, since Ned is a farmer, the Eyeball T-Shirt from 2009 did not return.